Learn more about Ads and analysis, check Out: Peek Freans Peanut Pik and Pista TVC – TVC Analysis
Using social networks for his company offers many opportunities: better visibility, promotion of products and services, creation of a community and loyalty of Internet users.Yet generating prospects on social networks is far from easy.Here are 6 tips that will help you generate qualified leads on social networks.
Generate leads on social networks
1. Use the "conversion pixel" in your Facebook ads
Many business leaders use Facebook to advertise, but do not optimize their use with the conversion pixel. Yet, it allows to know precisely the number of conversion from a Facebook advertisement. You can for example know the number of people who have registered with your Newsletter, who have made a sale … Just to integrate it in a page (landing page, confirmation page …). You can also use an A / B test to identify which ad has performed better to optimize your campaigns.
 The interest of Facebook Ad is the ability to target an "ideal" customer
And then improve the use of your keywords.
2. Target the social networks that generate the most conversion.
You have opened social profiles (Facebook page, Twitter, Linkedin …) for your company and you hope to generate prospects on social networks? You should know that the majority of your "fans" will never turn into customers. Why, you must target the social networks that have the best performance and the most potential.
In Google Analytics, click Acquisition> Social Networks> Conversion.In this window, you can observe the social networks that generate the most conversion.
If you want to go further in the analysis, take traffic from each social network and divide it by the number of conversions. You will then get the conversion rate that will allow you to target the social networks that turn the most Internet users into potential customers.
3. Engage your audience
One of the mistakes most often made by small businesses is to use social networks as a traditional media without engaging their audience.However, we note that:
The big winners on social networks are those who interact with their audience
 You will be surprised at how much your "fans" and "followers" are more receptive to promotional content if you have built your credibility before.
4. Master your sales process
Before you can convert your "fans" and "followers" and generate leads on social networks, you need to know the process of selling your site.How do you attract Internet users and what makes them choose you?
Many entrepreneurs embark on social networks without knowing their sales process. If you want to attract the right prospect, you must be very clear and precise to maximize your chances of generating prospects on social networks.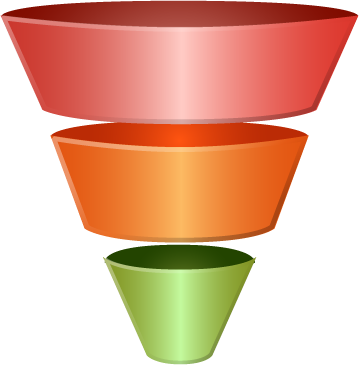 Here are some questions that will help you:
– What are the pages where the client is converted?
– Which social networks generate the most interaction?
– Which daily actions generate the best results
– Are the prospects you get the ones you're looking for?
– How many prospects turn into qualified prospects? What is the percentage?
– Have you determined how social networks will support your sales?
– Are there any Call-to-Action buttons on all your items?
– Test your content, CTA buttons and all types of items to see which ones are working and which ones are not working.
Your "fans" and "followers" should never find themselves in a dead-end situation on your site. You should guide them and share useful information to become a reference.
The key to conversion is to provide quality content and engage its audience.
5. Start talking "Off Line"
Business leaders are increasingly aware of the need to engage with potential customers through social networks. The problem is that they are also numerous to find that their activity does not match the audience of Facebook and that they do not have time to keep a sufficient presence to attract prospects via the social networks.
It is time to meet them to better know their needs, and the problems they encounter on a daily basis.
To know your customers, it is essential to go beyond social networks
This allows you to better understand the problems faced by your potential customers and to position you to find solutions.
Do not hesitate to go from an online conversation to a conversation after having a few interactions on social networks.
6. Create value, build trust, and sign up for your Newsletter
Many small businesses try to convert as many fans as customers without previously building a relationship of trust with their audience.This has the effect of creating an ever-widening gap between fan and client.
Here are 4 ways to remedy this problem:
1. Be generous and create content that is truly useful to your "ideal" customer. Use a blog preference, but you can also post third party content that will attract to your blog. Thus, images, lists, tutorials are all contents that will allow you to be noticed and attract the visitor to your site when a "Call to Action" button is integrated into the post.
2. Have a registration window in your newsletter that offers something to your users. This is the best way for you to "capture" email addresses.
3. Consider your subscribers to your Newsletter as gold.Do not treat them as ordinary people. You have to constantly offer them incredible offers through quality content. Over time, you can offer them commercial offers. They will be more) able to trust you, because you will have built a relationship of trust.
4. Focus on your goals and measure the results.Companies that have a goal of generating prospect for their business very often forget the efforts to get there. First, instead of creating immediate action on social networks, you should bring your "fans" and followers to your blog and properly analyze those who do or not.
You should wherever possible direct your fans to a specific landing page in order to optimize the conversion rate. Also create CTAs on your social profiles. Twitter offer "prospect" maps, Google + offers interactive posts that can be used to create CTA buttons like "Buy" and Facebook.